40 x 94 Ritz Dining Table and 6 Chairs
Sep 23, 2023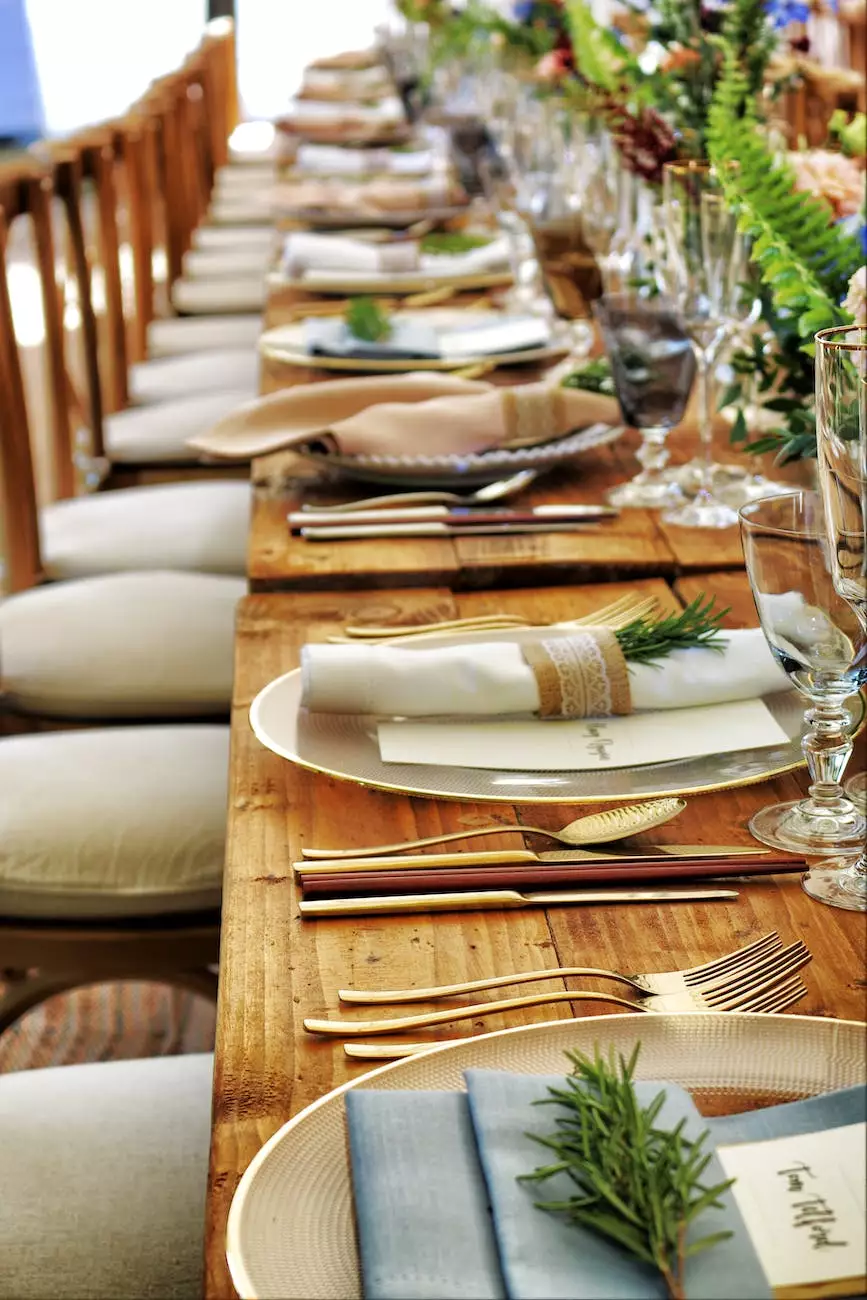 Experience Luxury Dining with the Fork + Rose Ritz Collection
Welcome to Fork + Rose, where we bring exquisite designs and unmatched craftsmanship together to elevate your dining experience. Our 40 x 94 Ritz Dining Table and 6 Chairs is truly a statement piece that combines elegance, comfort, and functionality. Crafted with precision and attention to detail, this dining set is perfect for those who appreciate the finer things in life.
Unparalleled Quality and Design
Our Ritz Dining Table and 6 Chairs set is meticulously crafted using the finest materials to ensure long-lasting beauty and durability. The table features a spacious 40 x 94 inches tabletop, providing ample space for family dinners or entertaining guests. The sleek and modern design with clean lines adds a touch of sophistication to any dining space.
Each chair is carefully constructed with ergonomics in mind, offering superior comfort and support. The cushions are luxuriously upholstered in premium fabric, adding an extra layer of elegance to the set. With its contemporary design and attention to detail, this dining set effortlessly enhances any interior decor, from classic to modern.
Create Lasting Memories with Ritz Dining Table and 6 Chairs
Whether you're hosting a formal dinner party or having a casual family meal, the 40 x 94 Ritz Dining Table and 6 Chairs from Fork + Rose provides the perfect setting for memorable moments. The spacious tabletop allows for easy conversation and sharing of delicious meals, while the comfortable chairs ensure everyone can relax and enjoy the dining experience.
Unleash Your Hosting Skills
With a dining set as aesthetically pleasing as the Ritz collection, you'll be ready to impress your guests with your hosting skills. Imagine their awe as they gather around the beautiful table, immersed in an ambiance of luxury and style. The conversation will flow effortlessly as you create memories that will last a lifetime.
Transform Your Dining Space
The Ritz Dining Table and 6 Chairs set not only provides a luxurious dining experience but also serves as a statement piece that brings life to your dining space. The combination of the sleek lines, exquisite craftsmanship, and beautiful materials instantly elevates the overall interior design. Enhance your dining room with a touch of opulence and elegance that reflects your refined taste.
Shop Fork + Rose for Unparalleled Dining Experiences
If you're ready to upgrade your dining experience and transform your space into a haven of luxury, then the 40 x 94 Ritz Dining Table and 6 Chairs from Fork + Rose is the perfect choice. Indulge in the art of fine dining and create lasting memories with your loved ones. Don't settle for anything less than the best - shop Fork + Rose today and elevate your dining experience to new heights!
Related Products
Explore our exclusive collection of luxury dining chairs
Discover our wide range of elegantly designed dining tables
Complete your dining space with our exquisite selection of tableware and accessories
Enhance your dining ambiance with our stylish lighting solutions