All-Weather Wicker Patio Furniture on Long Island, Suffolk
Apr 25, 2018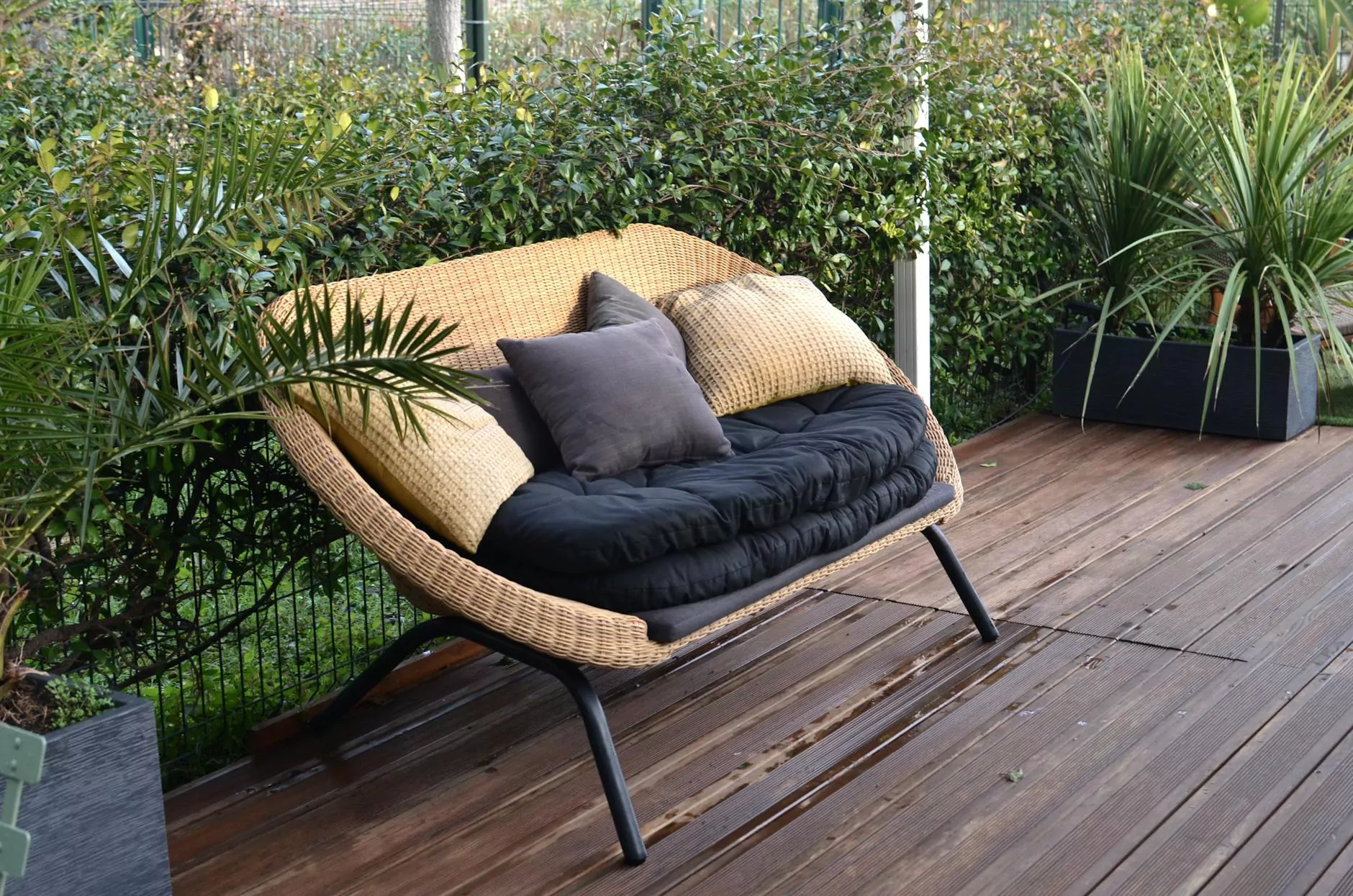 Create Your Perfect Outdoor Oasis with Fork + Rose
Welcome to Fork + Rose, your one-stop destination for all your outdoor furniture needs. We take great pride in offering the finest selection of all-weather wicker patio furniture on Long Island, Suffolk. Whether you are looking to transform your backyard into a serene retreat or add a stylish touch to your deck, our extensive range of high-quality wicker furniture is sure to meet your every need and exceed your expectations.
The Beauty of All-Weather Wicker
Wicker furniture has long been admired for its timeless beauty and versatile style. Our all-weather wicker patio furniture takes it a step further by offering durability and resistance to the harshest elements. Made from high-quality synthetic materials that mimic the natural look and feel of traditional wicker, our furniture is designed to withstand rain, wind, and sun, ensuring years of enjoyment.
Unparalleled Quality and Craftsmanship
At Fork + Rose, we believe that outdoor furniture should not only be aesthetically pleasing but also built to last. That's why we source our all-weather wicker patio furniture from trusted manufacturers known for their commitment to quality and craftsmanship. Each piece is meticulously crafted to ensure durability, strength, and comfort. From cozy seating sets to spacious dining tables, our collection offers a wide range of options to suit your outdoor lifestyle.
Transform Your Outdoor Space
With our all-weather wicker patio furniture, you have the freedom to transform your outdoor space into a true oasis. Create a cozy seating area where you can relax and unwind with friends and family. Set up a stylish dining space for al fresco meals and entertaining. Add a touch of elegance with our selection of wicker lounge chairs and side tables. The possibilities are endless, and our knowledgeable team is here to assist you in finding the perfect pieces to bring your vision to life.
Why Choose Fork + Rose
When it comes to outdoor furniture, we understand that you have many options. However, Fork + Rose stands out from the competition in several ways:
1. Exceptional Customer Service
At Fork + Rose, we prioritize customer satisfaction above all else. Our friendly and knowledgeable staff is dedicated to providing personalized assistance and guidance throughout your shopping journey. We are committed to helping you find the perfect all-weather wicker patio furniture that not only fits your style but also fits your budget.
2. Wide Range of Styles
We believe that every outdoor space is unique, and your furniture should reflect your personal style. That's why we curate a wide range of styles, from sleek and modern to rustic and traditional. With our diverse selection, you can easily find the perfect pieces that harmonize with your existing décor or help you create a brand new look.
3. Exceptional Value
Investing in high-quality outdoor furniture is a decision that shouldn't break the bank. At Fork + Rose, we are committed to offering exceptional value for your money. Our competitive prices, combined with the durability and longevity of our all-weather wicker patio furniture, ensure that you are making a smart and long-lasting investment.
4. Delivery and Assembly Services
We understand that convenience is key when it comes to furnishing your outdoor space. That's why we offer hassle-free delivery and assembly services. Our team will ensure that your new all-weather wicker patio furniture arrives safely and is set up for you to enjoy without any hassle.
Contact Us Today
Ready to create your perfect outdoor oasis? Visit our showroom on Long Island, Suffolk or browse our extensive collection online. Our team is here to help you find the best all-weather wicker patio furniture that suits your style and needs. Transform your outdoor space with Fork + Rose today!